TENAK offers a wide range of racks and accessories for use in cryogenic storage defined as working temperatures below -150° (ln2 freezers). Our products can be used with a large number of freezers from various manufacturers.
We have designed 4 different racks for LN2 freezers. In our factory in Denmark we manufacture our Classic rack with a locking rod, our high-end Comfort rack with our unique Safety spring lock, our Alu FlexRack which is for the end-user who needs a special storage application where the shelves can be moved around and placed in a custom height, and our goblet rack which is specially designed to store standard sized goblets.
At TENAK we're able to manufacture custom made racks for LN2 freezers, if you need racks for dimensions which are not standard dimensions.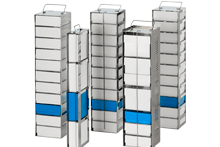 LN2 STORAGE RACKS
For Liquid Nitrogen freezers we offer different types of racks for standard sized cryoboxes and for goblets.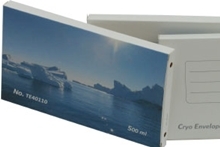 BLOODBAG ENVELOPE
These cardboard envelopes are made for standard bloodbags. Available in two sizes, 500 ml and 750 ml.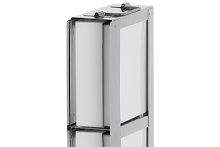 CUSTOM DESIGN
At TENAK we can manufacture any rack you may require. Over time we have made a lot of custom designed racks for our customers.