The Comfort Steel Rack for cryogenic freezers have spring locks mounded on each shelf to secure the cryoboxes. These racks can be used with most standard height cryoboxes in cardboard and polycarbonate. The racks are made of stainless steel.
This steel rack for cryogenic freezers are for standard sized boxes with 9×9 and 10×10 cell dividers with a max. footprint of 136×136 mm, and half sized boxes with 5×5 cell divider with a max. footprint of 83×83 mm.
Read more about our Usability explanation and product comparison.
| | |
| --- | --- |
| Box Footprint | Max. 136×136 mm |
| Material | Stainless Steel |
| Locking System | Safety Spring Lock |
| Features | Pop Up Handle |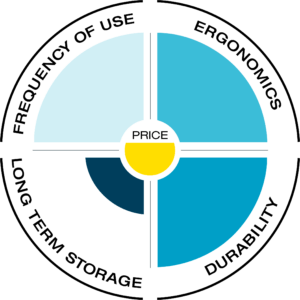 | | | | |
| --- | --- | --- | --- |
| Article no. | Box height | HxDxW mm | No. of boxes |
| TE24500 | 50 mm | 170x140x140 | 3 |
| TE24502 | 50 mm | 280x140x140 | 5 |
| TE24504 | 50 mm | 335x140x140 | 6 |
| TE24506 | 50 mm | 390x140x140 | 7 |
| TE24508 | 50 mm | 445x140x140 | 8 |
| TE24510 | 50 mm | 500x140x140 | 9 |
| TE24512 | 50 mm | 555x140x140 | 10 |
| TE24514 | 50 mm | 610x140x140 | 11 |
| TE24516 | 50 mm | 665x140x140 | 12 |
| TE24518 | 50 mm | 720x140x140 | 13 |
| TE24520 | 50 mm | 775x140x140 | 14 |
| TE24522 | 50 mm | 832x140x140 | 15 |
| | | | |
| --- | --- | --- | --- |
| Article no. | Box height | HxDxW mm | No. of boxes |
| TE24490 | 50 mm | 500x83x83 | 9 |
| TE24491 | 50 mm | 555x83x83 | 10 |
| TE24492 | 50 mm | 610x83x83 | 11 |
| TE24493 | 50 mm | 665x83x83 | 12 |
| TE24494 | 50 mm | 720x83x83 | 13 |
| TE24495 | 50 mm | 775x83x83 | 14 |
| TE24496 | 50 mm | 832x83x83 | 15 |