The classic steel rack for cryogenic freezers come with a locking rod to secure the cryoboxes. The racks are made of stainless steel. Our Classic Steel Rack for cryogenic freezers can easily work with temperatures below -150°, and are compatible with a large number of freezers from various manufacturers. Our Classic Steel Rack has the best price/quality ratio on the market, and the rack is for the quality focused end-user.
These racks are for standard sized boxes with 9×9 and 10×10 cell dividers with a max. footprint of 134×134 mm, and half sized boxes with 5×5 cell divider with a max. footprint of 83×83 mm.
Read more about our Usability explanation and product comparison.
| | |
| --- | --- |
| Box Footprint | Max. 136×136 mm |
| Racks with locking rod | Max. 134×134 mm |
| Material | Stainless Steel |
| Locking System | Locking Rod |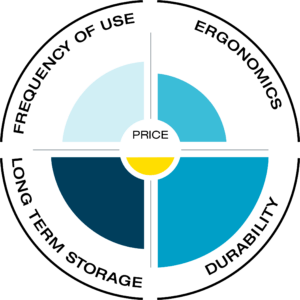 | | | | |
| --- | --- | --- | --- |
| Article no. | Box height | HxDxW mm | No. of boxes |
| TE21448 | 50 mm | 170x140x140 | 3 |
| TE21449 | 50 mm | 280x140x140 | 5 |
| TE21450 | 50 mm | 335x140x140 | 6 |
| TE21451 | 50 mm | 390x140x140 | 7 |
| TE21440 | 50 mm | 445x140x140 | 8 |
| TE21441 | 50 mm | 500x140x140 | 9 |
| TE21452 | 50 mm | 555x140x140 | 10 |
| TE21454 | 50 mm | 610x140x140 | 11 |
| TE21456 | 50 mm | 665x140x140 | 12 |
| TE21478 | 50 mm | 720x140x140 | 13 |
| TE21430 | 50 mm | 775x140x140 | 14 |
| TE21432 | 50 mm | 832x140x140 | 15 |
| | | | |
| --- | --- | --- | --- |
| Article no. | Box height | HxDxW mm | No. of boxes |
| TE21410 | 50 mm | 500x83x83 | 9 |
| TE21412 | 50 mm | 555x83x83 | 10 |
| TE21414 | 50 mm | 610x83x83 | 11 |
| TE21416 | 50 mm | 665x83x83 | 12 |
| TE21418 | 50 mm | 720x83x83 | 13 |
| TE21420 | 50 mm | 775x83x83 | 14 |
| TE21422 | 50 mm | 832x83x83 | 15 |